Families Wellbeing resources
Tips and tools for building safe, inclusive communities and friendships – online and offline
A key part of wellbeing is the ability to make and maintain the friendships we want, both locally and through the things that interest us and the experiences we share. The aim of the Families Wellbeing project is for people to feel more connected, less lonely, more resilient and supported.
We have been hearing from a range of different families across Scotland about the impact of COVID-19 on their wellbeing and what they have found to be helpful. Many families have been experiencing extra barriers to positive wellbeing during the pandemic. These challenges have included language barriers, lack of access to outdoor space for children to play, and finding it harder to connect with other families for friendships and peer support.
The groups we work with have been trying out different solutions, and have come up with great tips for building community and peer connections. We have brought together a range of these practical ways to connect with people – during the pandemic and in the future.
We encourage you to use the resources below with your communities, neighbours, families and friends. Please share them online too – or you can print out paper copies to use and share!
Peer support in changing times
Peer support groups we've been working with have been trying out new ways to get together. These have included physically distanced outdoor play sessions for families and online belly dancing sessions in Falkirk. Recently we organised a wet felting craft session where families from different peer support groups across Scotland had a chance to meet each other and take part in a relaxing activity.
Our tips and suggestions share and celebrate these groups' learning on how to connect, online and offline. We hope you find them useful!
Tips for family games and fun
These tips share suggestions from families we are working with for fun activities and family games at home.
Keeping the family entertained and active without costing a lot of money is difficult at the best of times. And this year it has been harder than ever for many families. Many of the ideas in the resource use things you may have around your home, and other activities are free or low cost.
Read and download our Tips for family games and fun
Tips for making friends and supporting friendships
This guide gives tips for families and individuals who want to start new friendships and keep existing friendships going. It can be hard to make friends in the best of times but restrictions on where you go and who you meet makes it even harder, so our tips include online and offline spaces and Covid-19 safety.
Read and download our Tips for making friends and supporting friendships
Setting up a telephone circle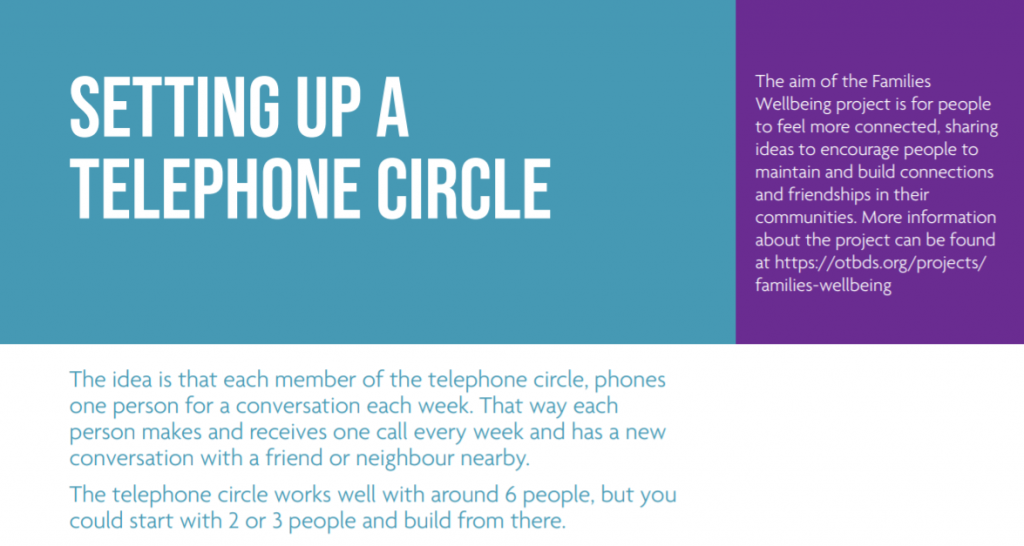 These tips are created to help people set up telephone circles, as a simple way to keep in touch. The idea is that each member of the telephone circle phones one person for a conversation each week. This means each person makes and receives a call weekly, starting new conversations with friends or neighbours nearby.
Read and download our Tips for setting up a telephone circle
Tips for building welcoming communities
Nearly all communities have a mix of people living in them, including people who have just moved there and people who have lived there a long time. We all want to belong and feel welcomed in our community. And people living in communities can help to make them welcoming, inclusive places to live.
When there are restrictions on where we can go and what we can do, it can be harder to meet new people and take part in local activities. This is especially true for people who are new to an area. We have gathered some tips and suggestions about ways to make communities welcoming and create space for meaningful integration.
Read and download Tips for welcoming communities
Options for video calling
Video calling can also be a great way to keep in touch, especially when meeting in person is not an option. There are many different platforms and apps to choose from. In this guide we have compared the ones which are easy to use and free.
Read and download our Options for video calling guide
How-to guide for using Zoom
Many activities and social events are happening virtually now, using software most of us had never heard of a few months ago. As it can be daunting the first time you attend something using Zoom, here is a short guide to get you started!
Read and download our How-to guide for Zoom
How-to guide for using Microsoft Teams
This simple guide can help you get started using Microsoft Teams to take part in online events and activities.
Read and download our How-to guide for Teams
We would love to hear from you about our resources. If you would like to share your ideas or find out more about the project  please get in touch with Louise Willson (email: louise@otbds.org).
This project was funded by the Scottish Government Wellbeing Fund, through the CORRA foundation.