Business Development Manager (Part-time)
 Come work with us!
2 year post
Part time – 3 days each week
Annual salary: £19,200
(24 hours per week, equivalent to £32,000 pa fte)
Closing date: Monday 25th October
Context of the work
This is a new post within Outside the Box, as part of developing the organisation and strengthening our overall capacity to achieve our charitable and strategic objective and continue to adapt in the future.
We aim to support and promote equality and diversity and respect each employee as an individual person within our workplace. We welcome people from diverse backgrounds and situations to apply and work with us, and are happy to discuss this and address any barriers.
About the role
A key purpose of the role is to help us develop our income sources and strategy, in a way which supports our values and approach to working with people. It will involve taking the lead and supporting colleagues with tenders, funding applications, relationships with businesses, and marketing our services.
Read and download the Business Development Manager Job Description
How to apply
Please provide 3 things:
A CV, explaining what your experience is.  We are interested in people's life experience when it is relevant to this post, such as hobbies and roles you do on a voluntary basis, as well as paid work.
A short note on what you bring to the main tasks in this job description.
The names of 2 people who will give you a reference.  They should know you in roles that are relevant for this type of post.  We will not contact anyone for a reference until after the interview stage.
The closing date for applications is Monday 25th  October.
You can send them by email to Angela Ross:  angela@otbds.org
Please get in touch if you have any questions!
You can also see the job advert on Goodmoves.com. Please share this opportunity with people you know.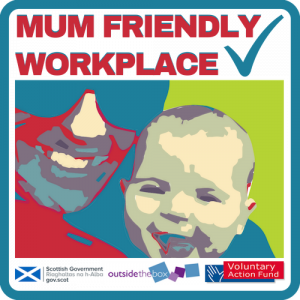 Outside The Box is a recognised 'Mum Friendly Workplace', meaning we meet the standards identified by mums as being supportive and flexible for mums returning to work.