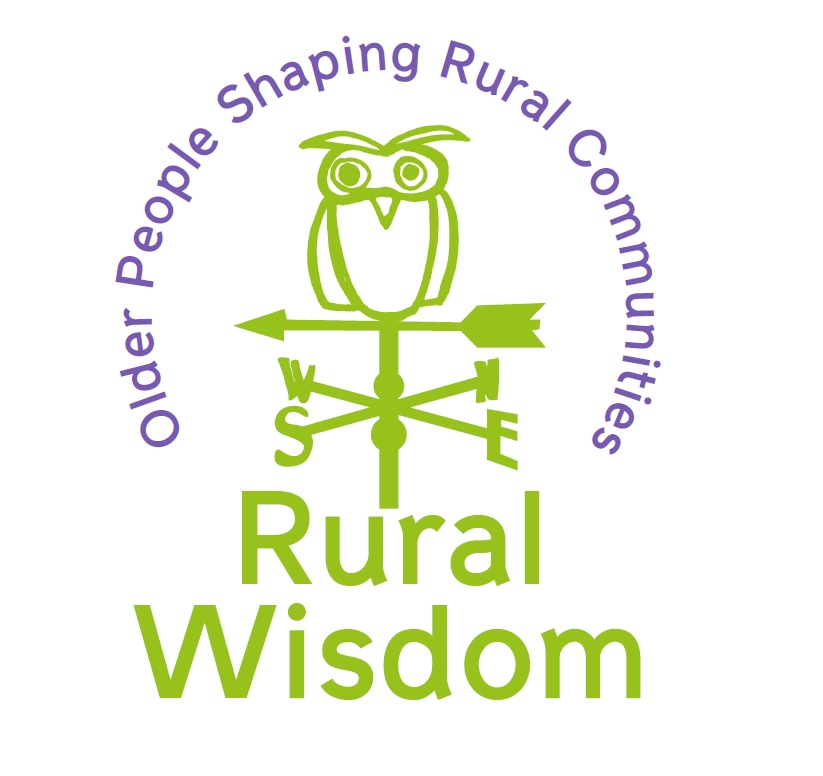 About the project
Many older people in the UK live in rural communities.
There are places where people are developing cities that work well for older people.
Rural Wisdom is a project to develop rural communities that are older-people-friendly.
The project is led by Outside the Box, Volunteering Matters Cymru and the National Development Team for Inclusion.
It is funded by Big Lottery Fund
What we are doing
Rural Wisdom is a community development and shared learning project that explores the impact of community-based activities that are led by older people living in rural areas.
We're tackling the issues that older people identify as priorities for their communities and makes opportunities for older people to shape their community to make it work well for them and for other people who live there.
We're developing community-led activities that include and support older people and activities that make local communities work well for people as they get older.
We're building on and encouraging the strengths and experience that older people bring, and encourages other people to value and support this.
We're exploring ways to identify and show the impact of these activities and the contribution to bigger changes.
Rural Wisdom outcomes
Through this work, we hope to see:
More older people in rural areas having a voice and leading change in their local communities, based on plans that they have co-produced
More older people getting the support they want, and which works well for them, through a wider range of community-based services and other support
Policies in Scotland and Wales supporting older people to continue to live in the rural communities they know, and encouraging older people's contribution to the life of their communities
The experience of older people in rural areas, and of their communities, contributing to the growth of communities across the UK that value, include and support older people ('age friendly communities')
Where we are working
The Rural Wisdom project is based in locations in Scotland and Wales, but has been designed to benefit people across the UK.
We will share what we learn both with all the other people and places taking part in this project and with others who are interested in these issues and innovative approaches.
The project also enables people living and working in rural areas to learn from and apply learning from related developments that will be taking place across the UK over the next 5 years.
Currently in Scotland, we are working in:
Highland Perthshire: Aberfeldy and the surrounding communities
North Angus: Brechin, Edzell and the North Angus Glens
Our partners in Wales are working in:
Leeswood, Flintshire
Milford Haven
Follow the links above to find out more about each of these areas and the work that is happening there.
Wisdom in Practice
Wisdom in Practice was a previous project developed by Outside the Box to encourage and support the development of services led by older people.
It aimed to build on the skills, knowledge and confidence of older people to enable older people to start or develop services and worked with older people across Scotland to make a difference to the opportunities and services they can use.
Over the course of the project, we developed a range of resources including Hints & Tips to help older people create successful new groups, encourage participation and keep everyone included.
See our Wisdom in Practice page for more about the project and to download these resources.
Rural Wisdom Staff (Scotland)
Anne Connor 
Chief Executive (Outside the Box)
anne@otbds.org
Anne oversees the running of Rural Wisdom in Scotland
Jill Davies
Rural Wisdom Development Worker
jill.d@otbds.org
Jill is working with communities in Aberfeldy and the surrounding areas
Shona Laidlaw
Rural Wisdom Development Worker
shona@otbds.org
Shona is working with communities in the North Angus Glens
Nicky Bolland
Rural Wisdom Development Worker
nicky@otbds.org
Nicky is supporting the Rural Wisdom work in North Angus and the areas around Aberfeldy
Kate Robertson
Community Development Advisor (Outside the Box)
kate@otbds.org
Kate is working with communities in Eaglesham and supporting the Rural Wisdom network nationally
Holli Wilks
Project Worker (Outside the Box)
holli@otbds.org 
Holli is supporting the work in and around Aberfeldy and the North Angus Glens