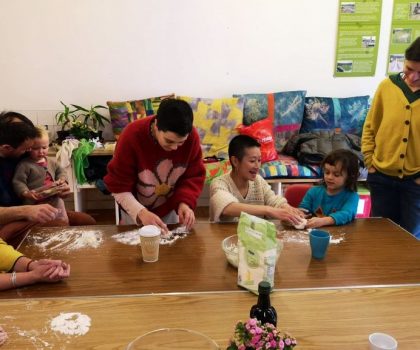 About Queer Families
Queer Families Glasgow was set up in 2018 to provide peer support sessions for LGBTQ families in Glasgow. We meet monthly for an informal group session with arts and crafts, activities, and visits from local LGBTQ artists.
We initially set up the group because we heard from some LGBTQ parents that now that they had kids they found themselves in a strange position- typical 'mums and toddlers' groups weren't as LGBTQ friendly as they could be, and often our parents would be the only LGBTQ family in the room. At the same time, they found themselves isolated from their LGBTQ community as a lot of events weren't child friendly and they struggled to balance childcare and staying involved with groups they'd been part of before.
The group provides a safe, inclusive space for LGBTQ families to meet one another and share experiences, where LGBTQ families are in the majority and don't have to explain anything.
Alongside the group and other LGBTQ families across the UK, we developed two sets of resources. These resources aim to provide support and advice for LGBTQ families or those looking to start families, as well as providing support for services to become more welcoming and inclusive for LGBTQ families.
For more information on Queer Families, you can email Ciara (ciara@otbds.org). You can also follow us on instagram @queerfamsglasgow