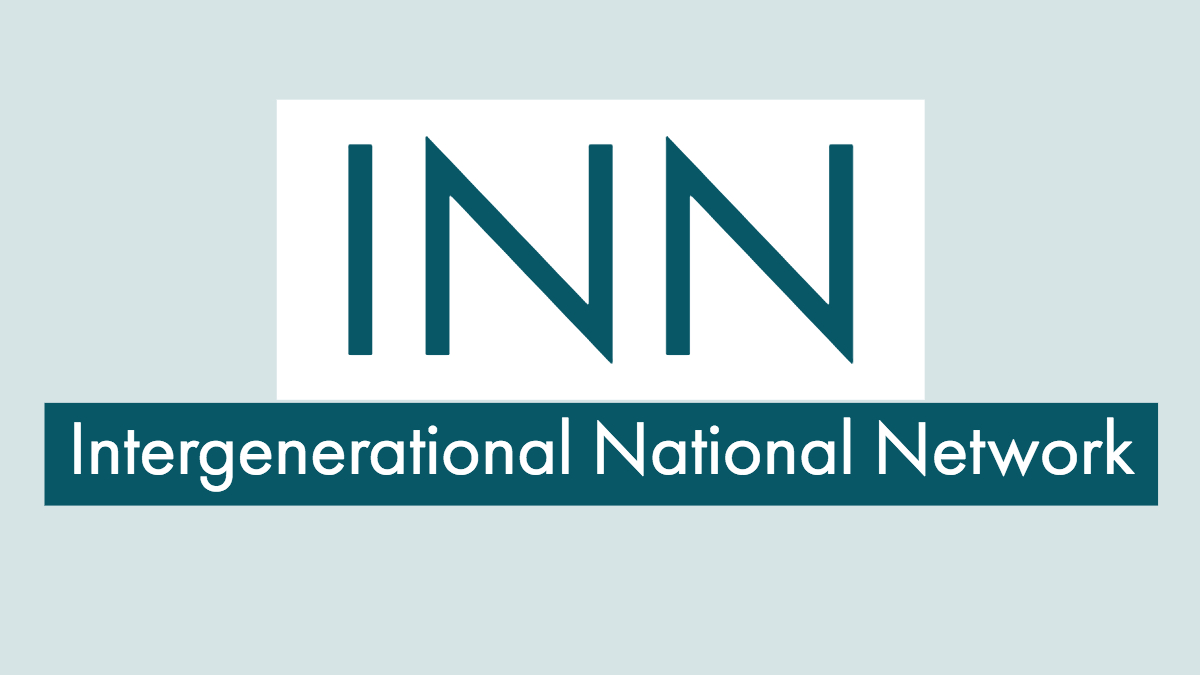 About the Intergenerational National Network
The Intergenerational National Network (INN) brings together people across Scotland (and further afield) who have an interest in intergenerational practice and, increasingly, multigenerational working.
Membership is free. Members come from the community, voluntary, arts, academic, private and statutory sectors; individual members are also welcome.
We usually meet between three and five times a year. We have no funding, so meetings are hosted by member organisations, who offer venues and tea and coffee. The programme is then agreed with the partners for that session and usually includes
Presentations – local interesting practice, or insights from elsewhere, or both
An information sharing element, which is an opportunity for everyone present to share information, challenges, thoughts and ideas, and future plans
A chance to network over coffee or lunch.
The INN came into being following a meeting at the University of Strathclyde in March 2007. Around the same time, 'All Our Futures in Scotland' was published, which included a commitment to establish a Scottish Centre for Intergenerational Practice. INN worked with other organisations on the development of the Scottish Centre for Intergenerational Practice, subsequently renamed Generations Working Together.
INN continues to complement the work that other people and organisations are doing to promote and support intergenerational working and share what we are all learning.
For more information, or to join INN, please contact Pat Scrutton, Co-ordinator, at patscrutton247@gmail.com or on 07557766779. You can also like us on Facebook – a space to share thoughts on intergenerational matters.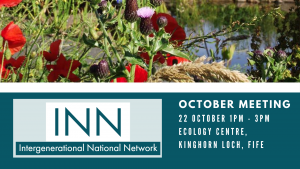 Next Meeting
Community Conversations
Challenges and Opportunities for an ageing population
Exploring Intergenerational work
14th March  2019 –  10.00 – 1.00
Venue: Saracen House, 139 Saracen Street, G21 5AZ
Background:
Statistics show that Scotland has an increasing ageing population therefore it is important for us to consider key issues, challenges and opportunities in how to respond to this demographic change.
This event is the fourth in a series of events and will outline the themes from previous conversation events.    Themes previously identified  included; social isolation and loneliness, perceptions of older people, access to financial advice and assistance, issues around transport and areas of community safety.
The last event also highlighted community volunteering initiatives, local activities linked to promote active ageing and projects which support Intergenerational activities.
A listening survey also took place to link into the Scotland Government 'Connected Communities' strategy and feedback was passed on to the Scottish Government.
The purpose of  this event is to continue to develop the themes into action points.
A key area of the event will be to promote a positive image of older people and the valuable contributions they can make to the community through their knowledge and life skills.   The event will be participative and will consist of workshops, including representation from organisations and members of the community to ensure full discussion and action points to be taken forward.
Agenda
10.00
Doors open – refreshments available

10.30
Welcome and setting the scene – Margaret Fraser /K Johnston (ng homes)

10.45
Presentation of Key Themes

11.00
Around the areas – what is going on for older people/community

(facilitated groups/feedback)

11.30
Good Practice examples of Intergenerational working:

11.45
Intergenerational National Network – Pat Scrutton

12.00
Lunch/entertainment

12.30
Speakers Corner

12.45
Summing Up – Next Steps
1.00
Raffle
Additional Information
Demographics/Scotland:
The estimated population of Scotland on 30 June 2014 was 5,347,600, with 17% of people estimated to be aged under 16, 65% aged 16-64 and 18% aged 65 and over. Current projections suggest that the population of Scotland will rise to 5.7 million by 2039, and that the population will age significantly, with the number of people aged 75 and over increasing by 85%.
The number of households headed by people aged 65 and over is projected to increase by almost 54% between 2012 and 2037. In contrast, households headed by someone aged under 65 are projected to increase by just 3%. The number of households headed by someone aged 85 and over is projected to more than double over the same period, from 77400 to just over 200,000.
Source:
Scotland's Population 2014 (Published in The Registrar General's Annual Review of Demographic Trends).
Demographics – North East Glasgow[1]
| | | | |
| --- | --- | --- | --- |
| Age Bands | No of people | % of population | % if this age band in Scotland |
| 0-15 | 29,538 | 16.6 | 17.6 |
| 16-64 | 122,092 | 68.7 | 65.7 |
| 65-74 | 13,810 | 7.8 | 9.0 |
| 75+ | 12,209 | 6.9 | 7.7 |
Demographics – North West Glasgow[2]
| | | | |
| --- | --- | --- | --- |
| Age Bands | No of people | % of population | % if this age band in Scotland |
| 0-15 | 28,402 | 14.9 | 17.6 |
| 16-64 | 136,549 | 71.7 | 65.7 |
| 65-74 | 12,911 | 6.8 | 9.0 |
| 75+ | 12,470 | 6.6 | 7.7 |
Source:  Glasgow City Integration Joint Board Strategic Plan 2016-2019
Associated Reading:
Scottish Government:  A Connected Scotland: Strategy for tackling social isolation and loneliness and building stronger social connections.
Glasgow City Integration Joint Board Strategic Plan 2016 -2019
(Age UK Research, November 2015), Financial Abuse Evidence Review
Glasgow Herald: MSPs want action on 'disease' of loneliness in Scotland – Herald Scotlandwww.heraldscotland.com/news/14186357.MSPs_want_action_on__disease__of_loneliness_in_Scotland/?ref=erec
JRF (Joseph Rowntree Foundation), December 2015: How well do you know your neighbor?: http://www.jrf.org.uk/file/48574/download
JRF (Joseph Rowntree Foundation), March 2015 (Helen Spandler); Landscapes of helping; kindliness in neighborhoods and community; http://www.jrf.org.uk/report/landscape in helping kindliness
ADI (Alzheimer's Disease International), the Global Voice on Dementia, Dementia Friendly communities (2014): http://www.alz.uk/adi/pdf.dementia-friendly-communities
[1] North East covers Calton, Springburn, East Centre, Shettleston, Baillieston and has a total population of 177,649.
[2] North West covers Anderston/City, Hillhead, Partick West, Garscadden/Scoutstounhill, Drumchapel/Anniesland, Maryhill/Kelvin, Canal and has a total population of 190.332.