LINKS Friday after school club
LINKS Eyemouth is a project for families in the Eyemouth area in the Borders. The focus is round healthy, lower budget eating and wider wellbeing as a means of promoting social connections. The project has helped strengthen community partnerships between different organisations, groups and small businesses, while sometimes making use of surplus food which would otherwise be wasted.
We had the first of our new Friday after school club sessions on Friday 17th November. The theme was 'end of autumn'.
We got together in Eyemouth Community Centre and made pitta bread pizza and fruit salad – which went down very well. We had 4 families along and some of the children got very creative putting sauce and cheese inside the pitta as well as on top! Lots of the ingredients came from the local food larder or reduced produce from the Co-op to save them going to waste.
Once we had all made our pittas we sat down round the tables to eat together.
It was great to have an opportunity to have a climate discussion with the families about upcycling clothing and recycling clothing, the complexity of recycling household rubbish and food waste.
We received lots of lovely feedback from the session:
"I would never have done this at home as it is too stressful"         "I have really loved it"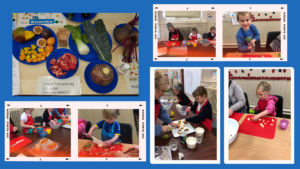 We've now got lots of lovely ideas for what the families want to make in future weeks and we can't wait for the next session!
The next session will take place on Friday 1st December 1.30-4.30pm Eyemouth Community Centre. Get in touch with Charlene to book in or find out more information charlene.linkseyemouth@gmail.com; charlene@otbds.org or contact Ruth Noble – ruth.n@otbds.org.
This project is funded by Scottish Government CLLD funding.