LINKS Eyemouth
LINKS Eyemouth is a community-led project which connects families in Eyemouth and surrounding areas around healthy cooking and eating, saving energy and reducing household costs and staying well, physically and mentally. The project employs a local worker in Eyemouth and has local volunteers of all ages, including some schoolchildren, some retired people. It is based at various community venues, usually within Eyemouth but sometimes in other communities.
For many in Eyemouth, including new mums and New Scots people, the LINKS project introduces them to other people. Many original participants have gone on to volunteer or undertake training with LINKS. At least two participants gained qualifications which led to local employment.
LINKS is inclusive and diverse; it celebrates the rich mosaic of the Eyemouth community. Sharing food is a great way to form social connections. Everyone involved is an equal, learning from one another and sharing ideas. With the support of partners, LINKS is able to support people to adapt recipes for cultural or dietary requirements, so that everyone is catered for.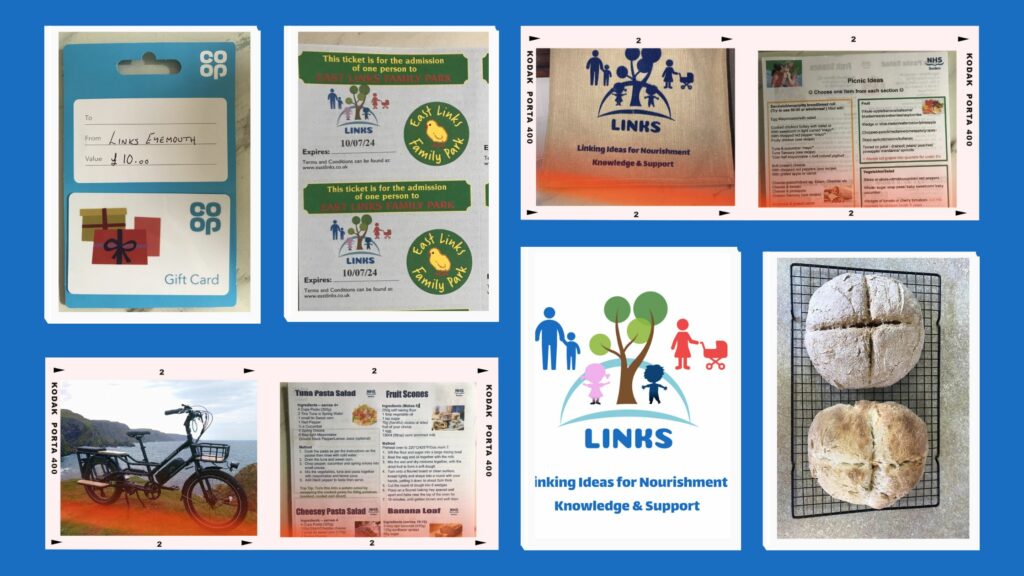 LINKS also helps reduce the impact of the cost-of-living crisis by providing families with free healthy food without a stigma attached. It equips people with sustainable skills to address cost of living crisis, as they learn about using surplus or leftover food, economising on cooking costs and general energy efficiency. It provides people with life and employability skills, experience and volunteering opportunities. Some of them go on to find opportunities in the area, rather than having to move away.
This summer we were delighted to be able to provide 55 families in Eyemouth with tickets to East Links Farm Park thanks to funders, Children and Young People Planning Partnership. The free tickets also came with a £10 Coop picnic voucher to enable families to buy the food that suits their requirements or any restrictions. We can't wait to hear how all 101 adults and 126 children get on!