< Back to Blog
Evanton Wood – Scotland's first 'dementia-friendly woodland'
Posted February 4th 2020 by Ruth Noble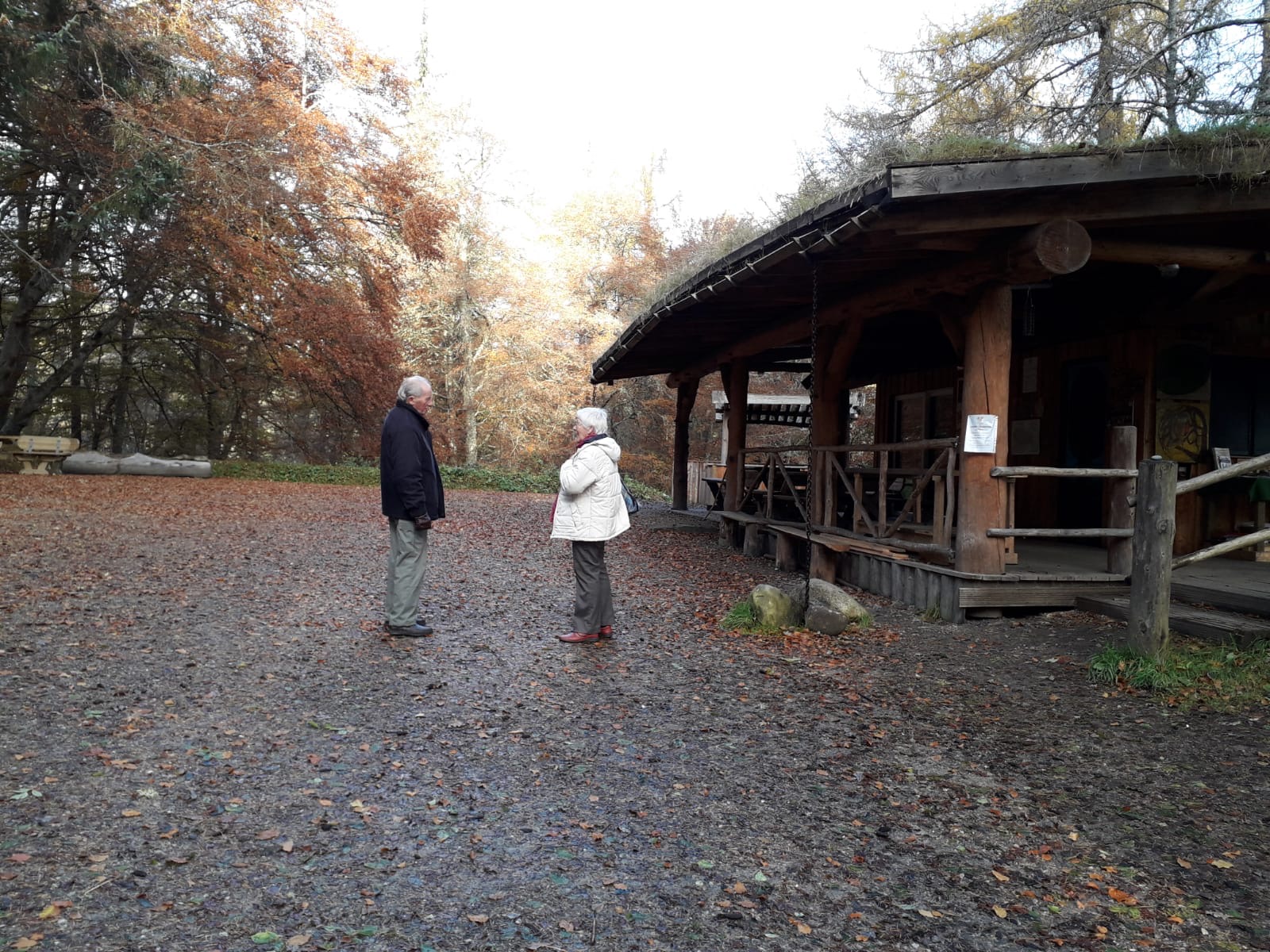 In 2019, Outside The Box was asked by the Life Changes Trust to carry out an evaluation of their Scotland-wide Get Outdoors project, which provided funding of up to £15,000 to six projects that support people living with dementia and their carers to 'get outdoors' in different ways through a wide range of different activities.
Awards were granted to: Evanton Wood Community Company; Instinctively Wild; The Ecology Centre; Froglife Trust; Sporting Memories Network; NHS Dumfries and Galloway
As part of our evaluation, we travelled to the beautiful Evanton Wood to find out more about their approach and impact.
Before our visit, a member of the Community Woodland Association told me Evanton was a 'jewel in the crown'. And after meeting with the participants of their Get Outdoors project, we could see why.
Evanton Wood is a community woodland based in the Highlands, and it has the honour of being Scotland's first 'dementia-friendly woodland'. As part of our evaluation for the Life Changes Trust of their Get Outdoors funded projects, we took a trip north to speak to people about their experiences.
The first thing that struck us was the friendly, welcoming atmosphere, and the real sense of community and friendship among the participants on the project. There was also a wonderful display of arts and crafts, as well as photos, documenting the wide array of activities the project had provided.
We started off indoors, celebrating the 80th birthday of a regular attender who was unfortunately in hospital on that day, but whose wife would take him some of the delicious cake and the pictures. It was touching to be part of the 'happy birthday' singing.
We chatted to people about the bird boxes and quilts they had made; the quilts were 'memory quilts' depicting scenes from individuals' lives, their recent experience and their working lives. These scenes prompted people to tell us some anecdotes about their early lives.
We spoke to people living with dementia and their partners or family members; they told us how the project had made a real difference for them. One woman told us:
"I feel I have time for myself again, to try arts crafts, which I would never have managed at home, being a full-time carer for my husband."
People highlighted further important elements in creating such a positive dynamic: shared food and music. Cooked food was a regular part of sessions (normally in the wood and occasionally in the community café along with other seniors). Music had been an occasional element which was evidently popular. One of the participants had been delighted to show off his life-long skill as a drummer; others had joined in the singing.
What else has helped make Evanton successful? As well as the camaraderie, there were practical elements,  such as easy access, disabled parking, shelter, accessible toilet and flat outdoor areas along with sturdy round tables and chairs. They had also purchased attractive waterproof fleecy blankets to ward off chilly weather.
In terms of sustainability, we heard that through various additional grants the project would be continued and expanded to become more multi-generational. Some of the original participants were keen to continue with informal visits to the woodland over the winter, helping each other out with shared lifts. They were also spreading the word to others at the community café, so it is certain they have recruited more older people to 'get outdoors'.
Learn more about the woods in this video:

This work is supported with funding from the Life Changes Trust. The Trust is funded by The National Lottery Community Fund.
Tags: dementia, get outdoors