By leaves we live
Creating community in a green world
'How many people think twice about a leaf? Yet the leaf is the chief product and phenomenon of Life: this is a green world, with animals comparatively few and small, and all dependent upon the leaves.'
This quote from Sir Patrick Geddes (1854-1932) is equally, or even more, relevant to us today. Geddes was a strong believer in the importance of spending time in nature and greenspace:
To encourage people to be active and to be outdoors (improving physical and mental wellbeing)
To produce local food
To brighten up and improve the local environment
For building strong connected communities
To learn about bio-diversity, nature, and the changing seasons
To promote a sense of place, responsibility and stewardship for the local environment
Over the past months, Outside the Box have been asked to deliver or take part in several outdoors sessions in the Scottish Borders and elsewhere in Scotland. These sessions have aimed at building connections, between individuals and communities, and promoting general physical and mental wellbeing. This all sounds like serious stuff but in doing so, we had great fun! Here are some of the things we did:
Gardening with Greener Peebles community garden
Volunteering in the community garden is for people of all ages and abilities – it's an open, welcoming outdoor space.  The beauty of these volunteering sessions was that people could just turn up on the day, without having to commit in advance. Taking part involved several social occasions, and eating nice food too.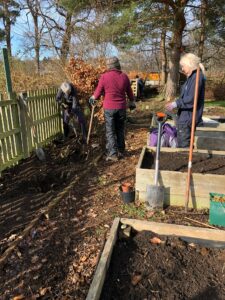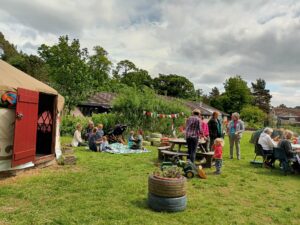 Outdoor cooking and nature activities in Eyemouth
With partners Field to Fork, and other community volunteers, we tried three different venues – woodland/field, beach and allotment site. We had a go at various healthy recipes including delicious vegetable cobbler – cooked on the campfire. We covered practical issues like risk assessments too. Field to Fork supported with some lovely ideas for natural art and other nature activities – using easily found natural resources. People felt confident, connected and generally 'chilled'! For some who had been nervous of getting back to social gatherings, it was a gentle and safe re-introduction.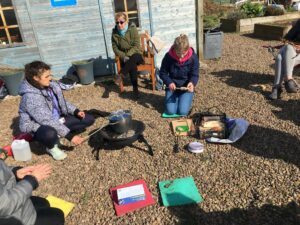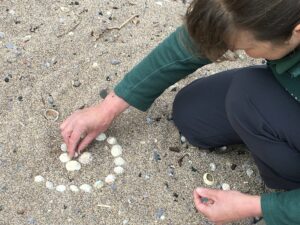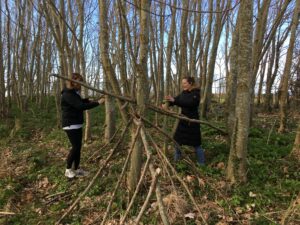 "Really enjoyed the session, food was great, crafts were fun and unique.  Great to try something new."
We are now looking at delivering further sessions, linked into the 6 ways to be well in the Scottish Borders (similar to the 5 ways to wellbeing in Scotland). We hope Patrick Geddes would approve.
For more information about our outdoor sessions, please contact Ruth (our South East Development Worker and outdoor learning leader) at ruth.n@otbds.org.