< Back to Blog
What has Borders Food Buddies been up to?
Posted August 1st 2018 by Christine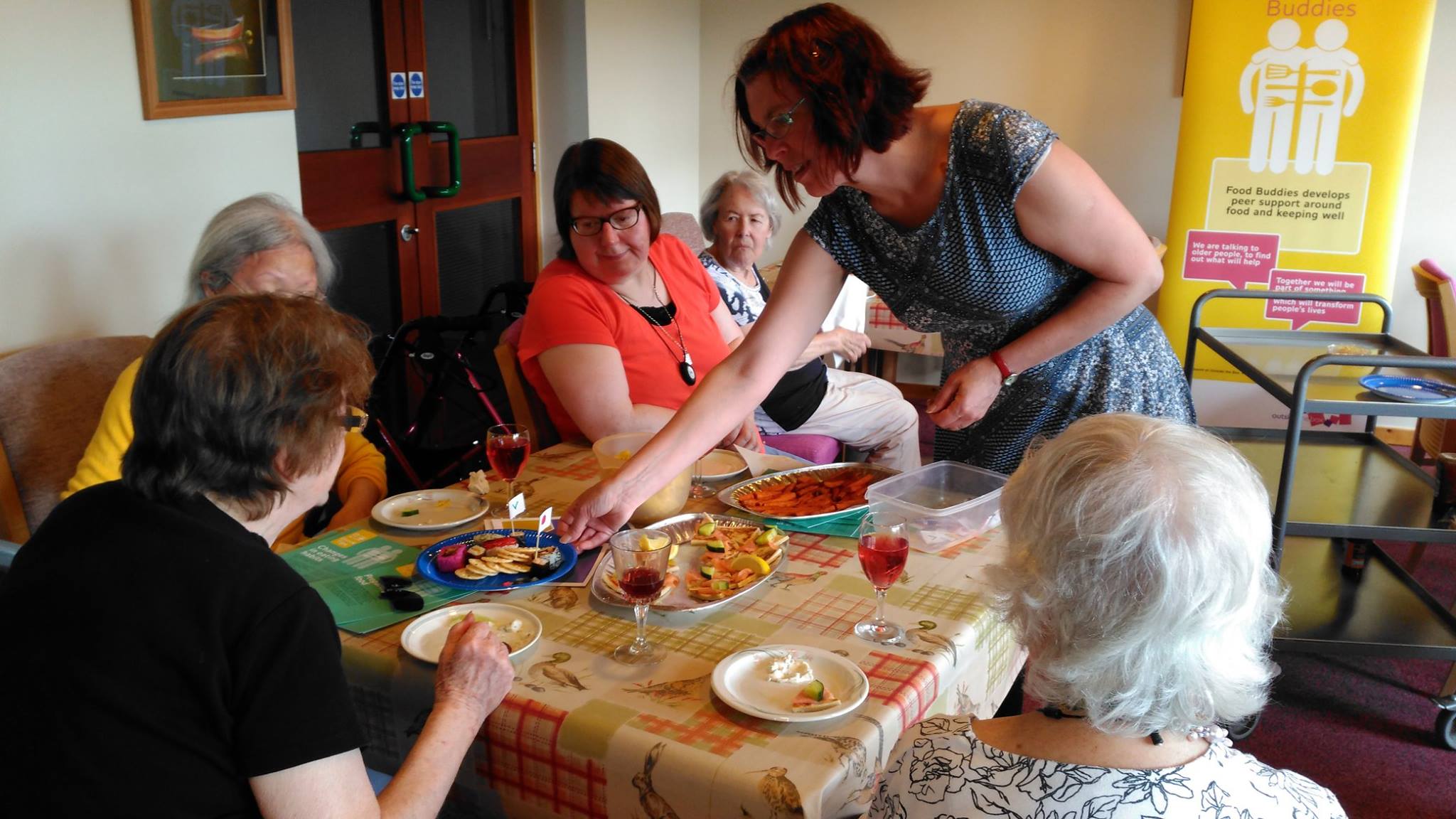 It has been a busy few months for Borders Food Buddies! The project has taken us on many adventures around eating well with dementia and in older age. Where to start??
Working with cafés
We have been working with a few more cafes, including Café Questo and Café Rialto (pending) in Eyemouth, the Garden Café at Traquair House, Dawyck Gardens café, the Almond Tree, Hawick (pending)…They are all now or about to receive our Food Buddies window sticker so please look out for it and we have more in the pipeline… but we are always looking to for more so please do get in touch if you can recommend a café where the staff are friendly, understanding and the café itself is accessible and easy to use, as we want to ensure that all older people including those living with dementia and other long term conditions, their families or carers, can enjoy going out for as long as possible.
Running events
We have run two events in sheltered accommodation: one in Peebles and one in Eyemouth. In Peebles we had an International food tasting session and a Community cookout in Eyemouth. Both events offered a valuable opportunity to socialise with other residents, their families and the wider community (including volunteers). They also gave people the chance to try and share new food ideas, giving them encouragement and motivation to try preparing these on their own where possible. It also gave residents a chance to get to know one another and to speak about their concerns and ideas for future activities. This was an excellent way to engage with people living with dementia and understand the ways in which things could be improved for them and we had lots of fun too!
New initiatives
We have a couple of new initiatives and that we are testing and so far have had very favourable feedback from the people who have taken part, their families and carers. One of these has been a gardening project, in conjunction with Peebles CAN community garden and Green Gardens daycare centre. A small group of people with dementia have been enjoying 'digging for victory', planting their own vegetables and watching them grow. Everyone works at their own level, some people prefer seated activities so they do some potting at a picnic table. The next stage will be to introduce some volunteers to help make this project sustainable; we are also hoping to have a 'harvest' social with some of the young children and families who also help at the garden.
Attending events
We have attended various events within the Borders and beyond: these include the Ability Borders Roadshows, the Joint Older People's Reception at Holyrood, the Joint Older People's Forum in Duns, the Border Carers' Conference in Melrose, as well as the Life Changes Trust Gathering and Conference. At all of these events we spoke to many different people: family carers, workers, people living with dementia and other organisations, sharing information and knowledge and making important connections.
Staff training
We have scheduled staff training for Whitmuir café and Berwickshire Healthy Living network volunteers, and are in the process of applying for further funding so we can take this essential training more widely. We have also been speaking to local councillors about Dementia-Friendly Communities, notably Elaine Thornton-Nicol (Older People's Champion for the Borders). We also have the support of MSP Rachael Hamilton, who is keen to see a motion in Parliament concerning our role in dementia awareness-raising.
Thank you!
Finally, we would like to thank all those who took part in our 'Days out' survey for older people. This survey was completed by people in the Borders and beyond; we have received lots of excellent tips on getting out and about as we get older, and for people living with long-term conditions such as dementia. For example, we have had very practical tips like 'Take your own cup when you go to a café, if you normally struggle with everyday cups.'
Do you have any more useful hints like this? If so, we'd love to hear them – please get in touch with ruth.n@otbds.org. When we have finished processing the data we hope to produce at least a couple of different publications to share some of these ideas.
To find out more about Food Buddies take a look at our website. 
Tags: