< Back to Blog
A space to talk, to meet & to be – monthly Conversation Cafes in Stonehaven
Posted October 12th 2017 by Caroline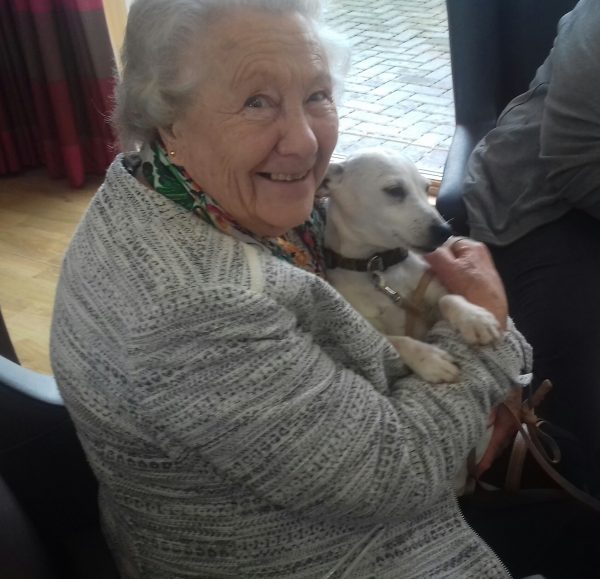 The "Conversation Cafe" started as part of the Aberdeenshire Wellbeing Festival in April this year and has continued each month, with the support of Outside the Box, in the lovely foyer at Edenholme Nursing Home in Stonehaven.
The cafes are an opportunity for anyone to come along to enjoy some company, chat and refreshments. So far the cafe has been very popular with up to 40 people attending each month (on the last Friday). Residents have enjoyed meeting up with old and new friends from around the town. There have been visits from Forrest View residents, Arthritis Care, Pet Therapy (pictured) and Citizens Advice. There is also the opportunity to enjoy a low level walk in the company of a walk leader prior to tea and chat. The café is very much open to all.
Come along
This month the Café is running on the 13th October 10.30-12 supporting Mental Health Day with donations to the Mental Health Foundation.
Conversation Cafes are thriving in other parts of Aberdeenshire including Inverurie,  Ellon and Turriff. Developed by NHS Grampian, Aberdeenshire Council and local groups they are now run with the help of volunteers.
Help out
If you would like to  support Stonehaven Conversation Cafe, for a couple of hours once a month, please get in touch with Caroline on 07841 015 845 or email caroline@otbds.org
Poster