< Back to Blog
What can Social Care learn from the Scottish Rural Parliament?
Posted April 26th 2021 by Anne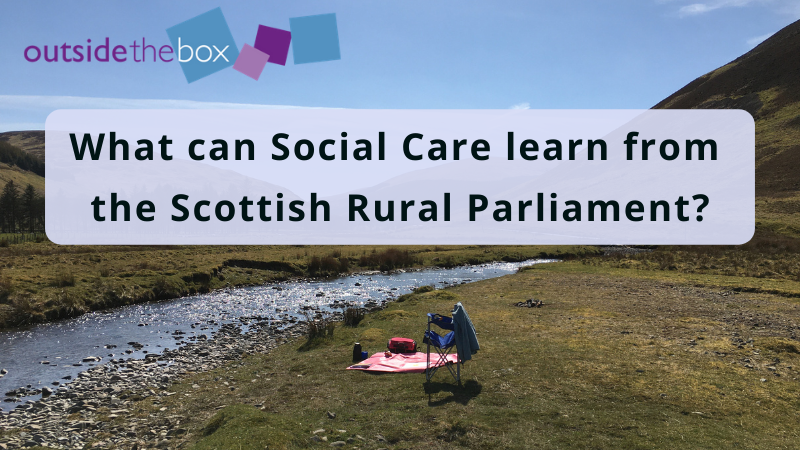 What can Social Care learn from the Scottish Rural Parliament?
Rural communities and innovative social care
Last month we had the Scottish Rural Parliament – virtual this time but with the same great mix of workshops and people from many different places and experiences who live in, work in or are interested in rural communities.
Outside the Box was part of the session on social care, where we talked about solutions that people in rural communities are developing around formal social care services and related community supports.  There are several reasons why people living in rural communities have even more challenges in getting access to social care than do people living in towns, so it is not surprising that innovative approaches are coming from here too.
Whole community approaches
The conversations in the other workshops also included the situations of older people and others who need extra support and the ways they can be supported within their communities: 20-minute Communities, Community Wealth Building, Food, Transport, Equalities, overall plans and policies for resilient rural communities, and more.
At every workshop people talked about whole community approaches, how this went together with support for people and families in that community who needed more help, and how these aspects reinforce each other.
The connected nature of care and community
Local social care services can create good quality jobs.
These enable young people to get work at home if they want and not have to choose between moving away or having difficult, expensive travel to work.
They also give jobs to other people who want to work locally and gives them a bigger income, which gives them and their families more opportunities.
It reduces climate impact when less travel for work.
Local responses to what people in that place need leads to a wider range of types of support, giving people who use social care more choices.  These are also more likely to work for people in equalities groups and people whose circumstances are not so well supported by traditional models of care.
More and better support means the people who get support can have the choice to stay in the community they know and be part of that community; their family can get a break; both have a better life.
People are using local services and resources and making these more viable, so the village hall/community centre etc is there for other people too.
The people getting support and people with care jobs can use local shops and businesses, keep these viable for other people to use, and keep the money within that community.
All these services and activities create more social contacts in the community, which adds to people's quality of life and complements and reinforces the social care services they use.
Learning highlights
These are some of the points other people interested in social care can take from the conversations at the Virtual Scottish Rural Parliament.
Involve more people in the conversation about the future of social care – there are a LOT of ideas and solutions coming from people who support the aim of people who need support having choices and being in control of their lives, and they have useful skills for how that could happen.
Be open to ideas that start from ordinary solutions that make communities work for everyone.
Look at what social enterprises and smaller businesses can contribute – the recent report from the Rural Social Enterprise Hub showing the way rural social enterprises start from a community development perspective is useful here.
Be willing to think small as well as local. Get away from the legacy of industrialisation and big service thinking that says the only success is a model that can be scaled up. Scaling out to lots of small local services, each responding to that community's strengths and needs, can be as or more effective.
Make opportunities for people to learn about what is happening in other places and meet people with other experience and skills in a space that lets people explore ideas and where it is safe to see things differently.
Tags: care, caring communities, community support, rural communities, social care