< Back to Blog
RECRUITING: P/T Project Worker, based in Falkirk
Posted February 27th 2020 by Outside The Box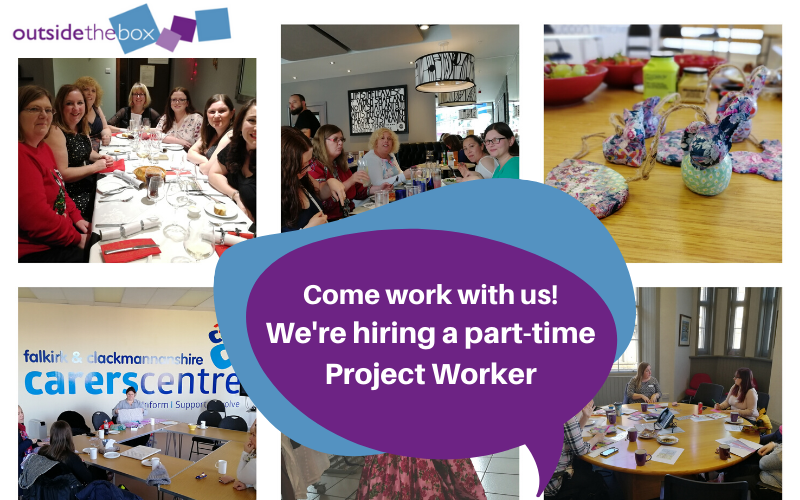 We're looking for a new team member. All the details are below. 
Please do not send CVs/Cover Letters. Instead, fill out the application form. If you are unable to fill out this form or require it in a different format, just get in touch and we can make alternative arrangements.
We are currently searching for a part-time Project Worker:  15 hours each week
Annual salary: £7,500 (pro rata on £20,000 based on 40 hours a week)
Deadline for applications: 5pm, 12th March
Background to Outside the Box
Outside the Box began in 2004. We provide community development support to groups and individuals who want to start something new or sustain something that will be of benefit to their community.  We also work with people across Scotland on national projects.
Most of our work is community development support to local groups or around specific issues.  Here, we are working towards people running activities themselves.
We host projects that develop a new approach, where individual people are benefitting from the support we provide.
We work to influence wider policies and practice.  This happens through sharing examples and learning from work with projects and local groups and by contributing to consultations and policy discussions.
The impacts of our work are aimed at:
People who can benefit from the direct support projects
Community groups, especially groups led by disabled people and older people
Policy makers
Staff in Councils, NHS and similar bodies who set local policies and practice
Staff in a range of settings who have contact with people who get support and with members of the public
Other voluntary organisations and innovation teams who are developing ideas and working to influence and improve policy and practice in Scotland or in other places.
At January 2020 we have 17 people working for us and over half of them are part-time.
Most of the team are working alongside projects.
We currently have 3 Project Workers, who support projects and also work together on practical ways to support the overall work.
Half the team are based in the office in Glasgow.  Other people work in local areas.
There is central support to all the work from the chief executive, a finance co-ordinator and a communications co-ordinator.
You can find out more about the organisation from our website: www.otbds.org
About this new project and this post
This is a new post and you will be working alongside colleagues on the Falkirk Food Connections project.  There are 2 strands which complement each other.
Working with disadvantaged communities in the Falkirk area to deliver peer support around food activities, such as peer support sessions, cooking workshops, community eating opportunities.
Working with existing local groups and organisations tackling food insecurity to enable connections between them. We will do that by delivering learning exchange events and by providing tailored development support for groups and organisations, including identifying ways different parties can help each other.
Through this project we want to:
Build communities around food – using food as a tool to bring people together and chat, meet new friends, feel less lonely.
Strengthen local communities by building stronger links between organisations and the communities they serve.
Make collaborations between organisations and groups easier and in turn support them to increase their capacity, allowing them to benefit more people
Maximise available resources and increase the reach and uptake of preventative solutions to food poverty and reduce waste.
Provide opportunities for people with direct experience of food poverty  and carers to contribute, feel valued and listened to and to share their skills and knowledge
People with direct experience of food poverty and carers have increased skills and understanding around food access to practical solutions towards dealing with food poverty
We are focusing the work around Falkirk.
About the person we need
You will have relevant experience of supporting project delivery, including organising events, planning out activities and managing deadlines.
You will be comfortable with working with members of the public and organisations, including collecting feedback from people.
You will have good understanding of social media platforms and how they can be used to bring people and organisations together to share resources.
You will be available to do this work in between your other commitments and able to fit with the project timescales.
You have experience of working as part of a small team and of planning and completing work with colleagues within agreed timescales.
Falkirk Food Connections is funded by the Investing in Communities Fund provided by the Scottish Government until the end of March 2022.  We will have looked at ways to continue the work before the current grant ends.
Main Tasks in this post
Work with other staff in Outside the Box to support the project, especially by providing communications and administrative support.
Organise and promote meetings and events and attend events as part of the team.
Assisting with organising community lunches – identifying and liaising and working in collaboration with different organisations, making use of their venues/equipment/volunteers/food.
Assisting with organising community food learning exchanges – allowing small groups and bigger organisations come together and share and learn from each other and identify ways to make a difference through working together.
Helping to facilitate regular peer support sessions for people on low incomes and carers, including cooking workshops, skill sharing and sharing ideas on shopping on a budget.
Working with participants to co-produce a resource on how to source healthy tasty food and live well on a tight budget, including gathering together information and other resources.
Working alongside members of the Outside the Box team to reflect on what learning the project has brought, what difference it has made to people taking part and how it could be developed into the future.
This is an outline of the post and not an exhaustive list of duties and responsibilities, as the work we do requires a flexible approach and being able to respond to the ways projects develop. The post holder may be expected to carry out other duties and responsibilities which may reasonably arise in the course of their employment.
 Skills and Characteristics
Experience or quality

 

Essential
Desirable
Understanding the values and aims of Outside the Box

X
Able to initiate, plan and complete tasks

X
Able to work as part of a team

X
Communication skills with people in a range of circumstances

X
Confident use of Word and Excel

X
Experience of digital communication and understanding it's use in a work context

X
Experience of community development activities (in a wide sense, not just paid roles)

X
Experience or understanding of food poverty

X
Experience of organising small events

X
Driving license and access to a car

X
Working arrangements 
Employment status, hours worked, salary and other terms and conditions
The contract runs to the end of March 2022.
The salary is based on a full -time salary of £20,000.  At this point, there is no salary scale for any person employed by the organisation.
This person will be line managed by the Development Worker in the Central Team.  The team is accountable to the Chief Executive and through her to the Board.
The pattern of work will be agreed between the post holder and line manager.   Work will usually be within traditional office hours, but occasional longer or different hours and work at weekends is an integral part of the job.
Staff are entitled to 36 days of annual leave and public holidays: this is the level for full time posts and is adjusted to take account of patterns of part-time working.
The post is subject to a 6-month probationary period before any future appointment is confirmed.
This post may be covered by the Protection of Vulnerable Groups or Disclosure arrangements.  All staff at Outside the Box may be required to have PVG clearance at any time, and failure to secure clearance is grounds for dismissal.  We may also carry out other checks for convictions or misconduct.
Location
The post will be home based.  We are exploring the option of a base in Falkirk
All team members come to team meetings, training and similar activities in Glasgow.  You will be expected to take part in some of the team meetings at the office in Glasgow, and may have other meetings there with colleagues.
This team works in a semi rural area and many of the people and groups we work alongside find transport a challenge.  The post holder needs to have a current valid full UK driving license and access to a car by the time the probationary period ends.
Equalities
Equal rights is at the heart of what we do, and as such Outside The Box is committed to promoting a diverse and inclusive work environment – a place where we can all be ourselves and succeed on merit. We offer family friendly, inclusive employment policies such as flexible working arrangements. We celebrate diversity and staff are expected to work with people from a range of different cultural backgrounds. If you have any access requirements that we can assist with for any part of the recruitment process, do not hesitate to get in touch as we would be happy to discuss any reasonable adjustments.
More information
Our website is a good source of information about what we do: www.otbds.org
We will try to answer questions people have about the project and the posts.
The easiest way to contact us by email: Ania Sandland – ania@otbds.org
How to apply
Please do not send CVs/Cover Letters. Instead fill out the application form linked to above.
If you are unable to fill out this form or require it in a different format, just get in touch and we can make alternative arrangements.
Where to send applications
The closing date for applications is 5pm on 12 March. You can send them by post or by email:
Email: ania@otbds.org
Post: 3.10, The Whisky Bond, 2 Dawson Road, Glasgow G42 8DL
We will be in touch soon after this date if you have been successful in securing an interview.
Tags: