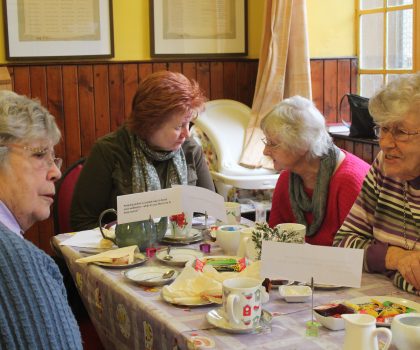 About the project
People are more likely to experience mental health problems as they get older.  But older people are less likely to have access to community supports or to services that help them manage their mental health or provide treatment when that is needed.
Over the past few years we have been having conversations with people about how to raise awareness about older people's mental health and wellbeing, and about what will make this better.
This project is supported by a grant from the Scottish Government Equalities Fund and runs from July 2016 to June 2017.
Having conversations
We are supporting people across Scotland to meet with others in their area and talk about the needs of older people and what different organisations and groups can bring.
The conversations will include
Older people
People who live with mental health problems who are looking ahead to the support they may want
Teams and community groups that focus on the mental health and wellbeing of older people
Other mental health services
Older people's services
Other groups that want to contribute their experience, skills and ideas.
We hope that people will identify ways they can work together as well as increasing understanding of what people need and what different teams and groups can contribute.
Some people are having short conversations as part of their usual meetings.  Other people are spending more time on this and bringing together people from different situations and experiences.
The list of questions is to help get your conversation started.
The notes for getting conversations underway has more background and tips on how to get conversations underway for anyone who wants this.
Outside the Box will be sharing the points and ideas that people raise.  We are also here as a resource to help people find out about what happens in other places and to develop their ideas into practical responses.