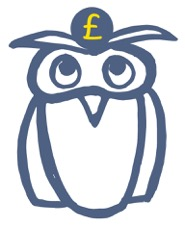 About the project
Money Owls is a project about increasing older people's confidence to deal with their own money matters. We want to do this by building a team of volunteers to raise awareness amongst older people around money and money issues.
Older people have told us they would like better and clearer information about money, managing money and where to get help and advice.
Some people
Are uncomfortable talking about money and money issues
Are worried about their bills and don't know who to ask
Struggle when they have to deal with money things for the first time
Money Owl volunteers will help by chatting with older people in local places like lunch clubs, sheltered schemes and community centres. We will hold regular Money Owl sessions in local venues. We will share ideas and things that people say work well for them in managing money. We will also give information about money services, advice available locally and signpost people to appropriate organisations.
Money Owls volunteers
Would you like to:
Help people's confidence around talking about money?
Gain knowledge about what's available in your area?
Make new friends?
Then you could be a Money Owls volunteer!
Training for volunteers with Money Owls will be provided by Grangemouth Citizen's Advice Bureau. It will take just a few hours and will cover things like understanding money issues and problems people face, and what money advice is available.
Volunteers will meet regularly to support each other and share ideas and the things that are working well.
Please get in touch with Ania or Alice (contacts below) if you are interested in this opportunity.
Get in touch
If you would like to volunteer with Money Owls or are interested in any other aspects of this project, please contact:
Ania Sandland, Development Worker: ania@otbds.org / 07514 905 945
Alice Charlton, Project Worker: alice@otbds.org / 0141 419 0451