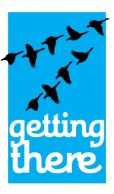 About
Getting There was a capacity building project funded by the Scottish Government. It ran from 2011 – 2015 at the time of the development of the Scottish Government's Social Care Bill.
The project explored what self directed support (SDS) means for smaller user-led organisations and did this by producing helpful resources and by creating and developing opportunities for smaller user-led organisations to meet, share resources and learn from each other.
Read the final Getting There report: What we did and the difference we made
Note: many of the resources talked about in this report link to the Getting There website which was created at the time of the project as a space to draw all of our learning and resources together. The content of the Getting There website has now been transferred on to this site, & all the resources are available to download below.
Permission to Dream
During the year between the Bill being passed and SDS coming into effect for everyone we realised that people with mental health problems in many parts of Scotland were getting very little information about how SDS could work for them.
Over 2014-15 we held events which looked at how we make SDS work for people with mental health problems. The reports from these events, which grew in to a broader 'Permission to Dream' project, are available below and on the Permission to Dream project page.
We also asked NDTi to look at what was happening elsewhere for people with poor mental health. They looked at the evidence and practice of self directed support for people with mental health problems; the resulting reports (background, evidence & practise) are available below.
Micro-enterprises
The Getting There groups highlighted that there were difficulties in finding choices for some people, such as those in rural and remote areas. We decided to find out more about the potential of micro-enterprises to see if that was an option to offer more choice for both smaller user-led organisations, and for individuals; and to identify and fill gaps in services.
Through the project and afterwards, we developed a range of useful information to highlight the option of micro-enterprises and support people to get started with their own. Watch this space – this information will be available shortly on this website through a new Micro-enterprises and Social Innovations project page.
Getting There final report