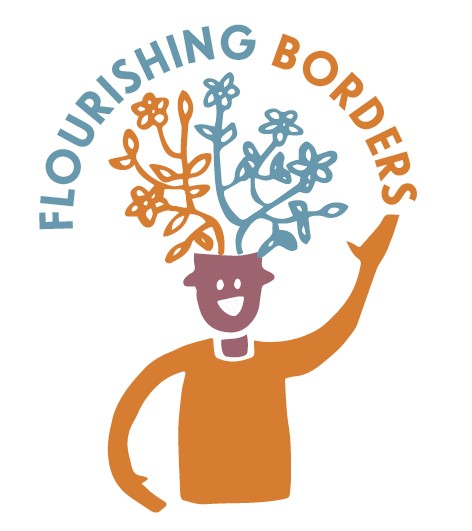 About
Flourishing Borders was a one year project supported by the Scottish Government Self-Management Fund through the Long Term Conditions Alliance.  The grant ran from April 2016 to March 2017.
As part of this project, we ran a series of Happiness Habits Cafes in partnership with local groups to encourage peer support and offer a space to gather and share tips on ways to support our mental health and wellbeing.
We met over 250 people and held sessions in 18 locations across the Scottish Borders.
Reports from several of the locations that we worked in are available to download below. During some of the café sessions some people said that they would like to try a new activity so we ran some activity taster sessions ranging from ukulele playing to belly dancing. You can also read blogs and see photos from some of these sessions below.
We want to thank everyone who took part and everyone who helped with the activities and planning the overall project.
Continuing Activities
In a few of the areas the cafes or activities have continued to meet on a monthly basis.
Happy Café, Burnfoot
The Happy Café, as it is now known, has continued to meet in Burnfoot Community Hub in Hawick with the support of the Healthy Living Network. They start with a gentle walk for those who want to then head back to the Hub for coffee, scones & a chat.
Date: Last Thursday of the Month
Time: 10am for Walk, 10.30am – 12 noon coffee, scone & chat
Location: Burnfoot Community Hub, Hawick
Cost: Free
Contact: Lizzie Ireland: lizzie.ireland@borders.scot.nhs.uk / 01835 825970
Eyemouth Tea Dance
As a result of our café in Eyemouth the Healthy Living Network & the Community Capacity Building Team started a Tea Dance in the area.  The group starts off with teas and coffees and a blether. They then have an opportunity to put their dancing shoes on to waltz, cha cha cha and quickstep to the sound of music from the 40s, 50s and 60s.  They finish off with some soup for lunch.
Date: 1st Tuesday of the Month
Time: 10.30-12.30
Location: Eyemouth Community Centre
Cost: £1
Contact: Juliana Amaral: communitycapacity@scotborders.gov.uk / 0185 825080
Ukulele in Newcastleton
Back in February we made the trip along with Jim Benton-Evans (a ukulele player & teacher from Peebles) down to Newcastleton for a taster session.  Everyone who came along had a lovely afternoon learning how to play few notes & chords on the ukulele and a good old sing song.
We are in the process of arranging another taster session with a little concert tagged onto it for late summer/early autumn.  We are also working in partnership with the group to write a funding application so they can continue to meet, pay for a tutor and buy some ukuleles.
Contact: Paul Smith: Paul.Smith@churcharmy.org
Office: 013873 75013  Mobile: 07527592725
Whim Hall Belly Dancing
We got Diane Davis Bailey along to hold two taster sessions at Whim Hall – Diane introduces people to belly dancing as a way of moving more and feeling good about themselves.  The residents loved Diane, the music and the dancing.  Afterwards Isobel Roast, the activities co-ordinator, asked the residents if they would like to continue with the belly dancing, she got a definite yes as a response! Isobel and Diane have now arranged that they will continue to have the belly dancing sessions on a monthly basis starting in June 2017.
Publications
We have published two publications from the project that will now benefit people living anywhere.
The Top Tips & Happiness Habits leaflet gives the tips which older people shared to help other people manage their mental health and wellbeing.
The second publication is our Top Tips for people who work with older people in the community.  This describes what we did and uses the experience of people who helped run the Happiness Habits cafes to show how people can run similar session as part of their work.
You can find these below alongside reports from the locations were we ran some of the Happiness Habits cafes.
Events
Food Buddies meets Happiness Habits

Location: Caddonfoot

If you are over 55 and would like to try something new or enjoy cake, come along and join us in Caddonfoot for afternoon tea and some fun taster sessions including New Age Kurling, indoor carpet bowls & art and crafts.

Happy Cafe

Location: Hawick

As a follow on from our Happiness Habits Cafes, the Healthy Living Network Team will be holding its 1st Happy Cafe.
Reviews of our Happiness Habits Cafes
Flourishing Borders Publications & Resources
Top Tips and Happiness Habits

[238.3KB] Having Different Conversations Topic: Mental Health, Older People | Format: Hints & Tips

.pdf

Flourishing Borders Background Note

[300KB] Having Different Conversations Topic: Co-production, Mental Health, Older People | Format: Project Note

Older People's Mental Health and Wellbeing

[115.2KB] Having Different Conversations Topic: Mental Health, Older People | Format: Discussion Paper

Happiness Habits for Older People

[1.4MB] People Having More Choice in their Lives Topic: Mental Health, Older People | Format: Report