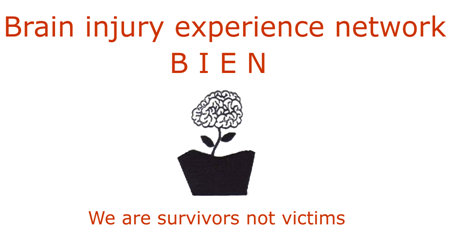 About the project
"We are survivors, not victims"
BIEN is a group based in West Dunbartonshire which is led by people who have an acquired brain injury.
Outside the Box and BIEN began working together in 2007. The group used their experiences for The Journey, which has tips for other people who are affected by an ABI on how to cope and plan for the future.
Since then, we helped BIEN work on a DVD – Getting your head around Brian Injury. This was launched at a world premiere on 7th September 2012 in Dumbarton – complete with red carpet and lots of glamour.
"It's the stories of people who were brave enough to share their experiences as a way of helping people learn to cope after a brain injury."
John Russell, West Dunbartonshire Community Health and Care Partnership

"We hope the film gives hope to people affected by a brain injury and show them that there is life after brain injury – a good life."
BIEN member
The 2 minute trailer is available to watch on Youtube here.
"Moving, funny and really tells the story"

"Brilliant so proud of my brother and the rest of the group"

"Moving. Inspiring, sorry lost for words. This will and has changed lives"

"…it's also helpful to see how life works around others with a brain injury"

"I am completely in awe of all BIEN has become and how amazing you all are"
We are now working with BIEN and the Acquired Brain injury team in West Dunbartonshire to publicise the film and raise awareness about the issues that affect many people with an ABI.
A short version of the film is now showing in all the Health Centres across West Dunbartonshire and in all the West Dunbartonshire Council Area Offices, as a way of reaching the public.
BIEN members are giving presentations at events such as staff training sessions and conferences. If you want to find out more about the road shows, contact the ABI team:
Acquired Brain Injury Team
West Dunbartonshire Community Health and Care Partnership
6-14 Bridge Street
Dumbarton
G82 1NT
01389 737020
enquiries.braininjury@west-dunbarton.gov.uk
The Scottish Head Injury Music Group brings together musicians who have had brain injuries. They played on the DVD and at the launch.
You can see their songs on Youtube:
Support
The DVD project was funded by West Dunbartonshire Community Health and Care Partnership, Outside the Box and the Big Lottery Fund through a grant to Outside the Box for the Working Towards project.
The dissemination project is funding by an Awards for All grant from the Big Lottery Fund.