Introducing our new Chief Executive
With Anne Connor retiring after 18 years creating and developing Outside the Box, and an amazing career supporting people to create empowering change in communities, we're delighted to introduce you to our new Chief Executive.
Louise Willson (formerly our Depute CE, working alongside Anne) has been a core part of Outside the Box leadership for several years, supporting our teams and projects across Scotland. She leads on lots of our consultation, evaluation and partnership work, as well as guiding our strategy and co-production with communities.
While it may come as a surprise to the public, inside OTB we've had lots of time for succession planning and prep. It's been a seamless transition, supported by our great Trustees and everyone in the team. Alongside expertise from her career in the public and third sectors, Louise's personal strengths, inclusive style and curiosity make her an Outside the Box leader in the best way.
"We have been planning this transition for 6 months. And as organisation we have been working successfully with self-managing and empowered staff teams for a few years. As Anne said 'success for us is life being better for people and people and communities knowing there are more choices and opportunities.' We look forward to continuing the Outside the Box legacy, working with people we know and getting involved with new communities and their priorities."
You can contact Louise at: louise@otbds.org
Here's a little background from when Louise started at Outside the Box,
"My background is working in social housing and supporting tenant engagement. I have worked for local authority housing departments and for tenant participation organisations across England and Scotland. My favourite part was seeing people and communities work together to influence and change things, and to develop solutions to local issues. Since moving to Scotland I have worked for voluntary support organisations in Inverclyde, South Lanarkshire and North Ayrshire. It's been a great way to see some lovely places and to learn about the things that affect communities and the issues the voluntary sector faces.
When not at work I enjoy spoiling the cat, being part of a small swim group – the west coast mermaids and ferrying my teenagers around. I have an ambition to walk a marathon overnight with the moon walk in Edinburgh next June and see the sun rise."
Since then Louise has made a habit of braving seas in any weather, continued to get outside when she can and has been a big part of helping people in communities achieve their personal and shared ambitions too.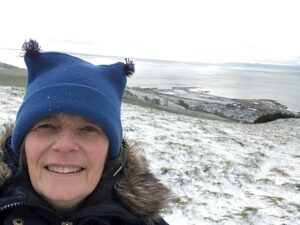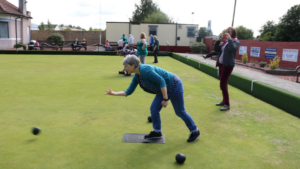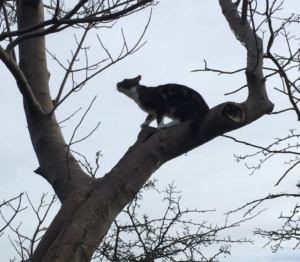 To learn more about what Louise and the Outside the Box team do, read about our work on Connecting Equalities, inclusive evaluation, menopause and the workplace and supporting community groups like Moments of Freedom.