< Back to Blog
Human rights in East Renfrewshire
Posted May 22nd 2018 by Alice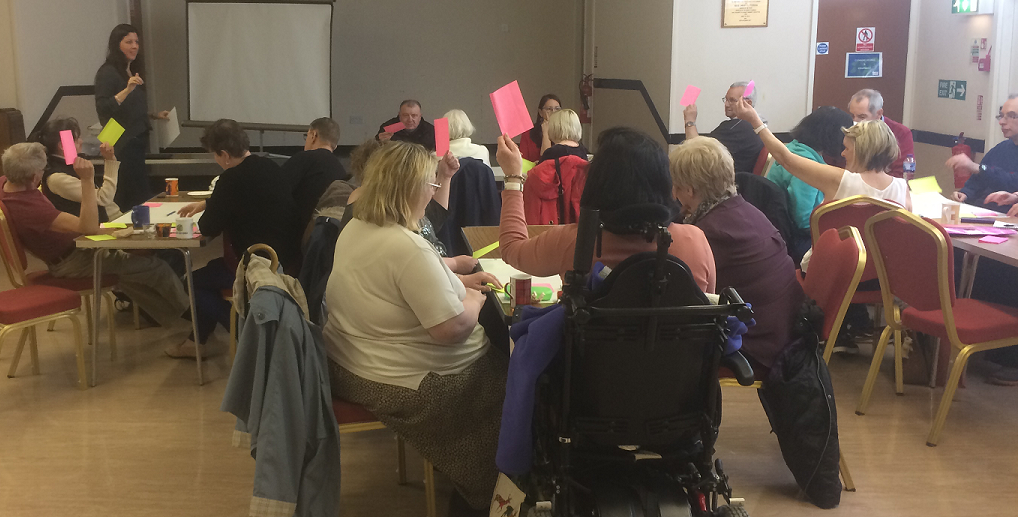 We recently went along to the Causeway RAMH group in East Renfrewshire to run one of our free human rights training sessions for our Local People Linking project. It was great to hear from the group and to find out the ideas everyone had for making East Renfrewshire better for everyone.
"Workers keep telling us that the Foundry has loads of information about services and groups in our area, but how are we supposed to get there? I have to take two buses to get to Barrhead."

"Barrhead council are good. Money advisors are brilliant but there is a long waiting list so problems often get worse."

"We don't feel safe at night."
We spent a lot of time talking about the problems people are experiencing being able to find out information about East Renfrewshire, like what groups and services are running there. We heard from lots of people that although there is information available, it isn't always given in a way that is accessible.
"There are probably good services but only if you know where they are."

"Information isn't clearly displayed."

"If you have no internet, a laptop or you're not confident with technology, you miss out on so much- a lot of people don't have the money for a laptop or phone that gives them access to information."
The Causeway RAMH group also spoke about other concerns that they had such as the stigma people face as people with physical and/or mental disabilities and issues with transport in East Renfrewshire.
"I am judged in my local community because of my disability."

"Bus drivers can be rude if you need the bus to be lowered to get on."

"The pavements have no wheelchair access in my local area."
The session ended very positively with the group coming up with lots of ideas on how people from the group could make changes and who members of the group could contact with their concerns. With these ideas we have planned a follow up session to support the group to develop their own rights charter so they can share what is important to them with the wider community.
If you would like a free human rights taster session with your group in East Renfrewshire then email jill.k@otbds.org or call 07841 015949. For more information about the project click here.