< Back to Blog
Happiness Habits in Ettrickbridge
Posted December 18th 2018 by Jan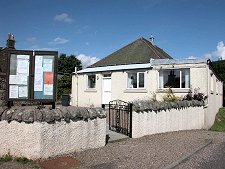 In early November our Happiness Habits team went along to the monthly coffee morning at Kirkhope Village Hall in the picturesque village of Ettrickbridge where they were warmly welcomed by the local people and the hall committee who host this event.
It is a very popular coffee morning with around 60 people attending for a good old catch up with each other, it also gives local people an opportunity to sell their produce and crafts.
We asked people  – "What makes Ettrickbridge such a good community?", "What could be better?" and "What are the barriers and difficulties?". The responses in the main were positive with people saying:
"Its like walking into a family"

"Everybody looks out for each other without being too intrusive"

"Coming home to the village is like being wrapped in a big comfort blanket"

" Attitude – we want it to work"
People did express a few concern regarding transport, the ageing population in the village and a need more families and children.
Thank you Ettrickbridge for being so warm and welcoming and sharing your views so freely!
Find out more information about our Happiness Habits project here