< Back to Blog
People Living with Dementia Getting Outdoors with Instinctively Wild
Posted March 10th 2020 by Ruth Noble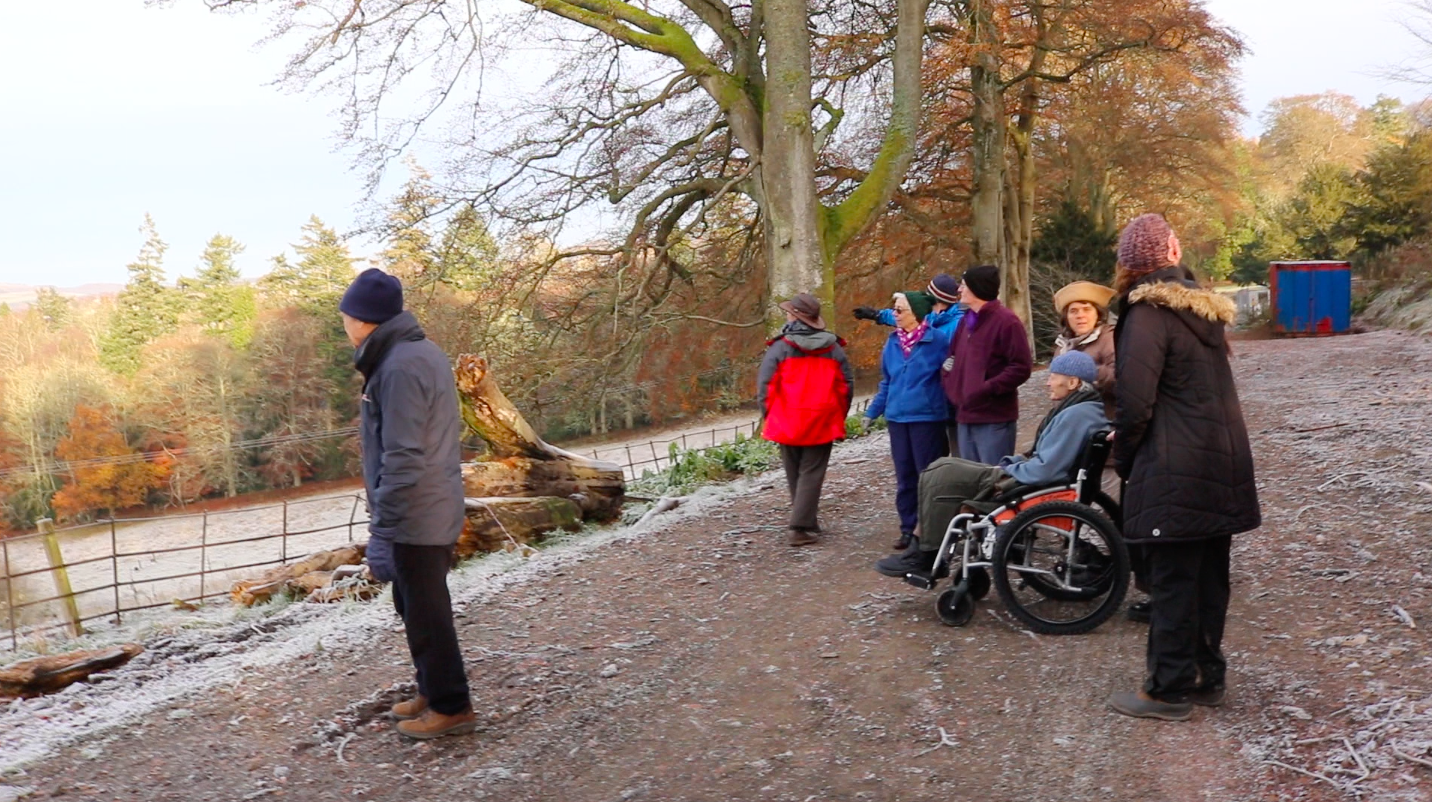 In 2019, Outside The Box was asked by the Life Changes Trust to carry out an evaluation of their Scotland-wide Get Outdoors project, which provided funding of up to £15,000 to six projects that support people living with dementia and their carers to 'get outdoors' in different ways through a wide range of different activities.
Learn more about what we've discovered from all our visits in this interim report. 
This blog tells more about our trips to Instinctively Wild group in Selkirk.
A warm welcome awaited everyone – literally – as they entered the room at the historic house of the Haining. The fire was blazing with logs from the beautiful grounds of the house, and everyone came in rubbing their hands and smiling. In the background, soft harp music was played, and new arrivals were offered a cup of tea and biscuits.
Although it begins and ends in this cosy room, the Instinctively Wild Get Outdoors project is true to its name, encouraging people to get outside in all weathers and really engage with nature. The participants are people living with dementia, with their family carers, some volunteers and OT staff. Leading the session are Forest-school trained practitioners who are used to working with people of all abilities, and bringing out the best in them through nature-based activities.
We visited the project on two separate occasions. We were made to feel a part of things and we joined in, supporting people and chatting to them as we went along. The first week, which was several weeks into the actual programme, we went for a walk in the grounds of the house and collected natural resources. During the walk we noticed displays of mindful observation, contented silence and physical risk-taking. For example, one man strayed from the path specially to pick some holly berries, commenting on their colour. Everyone was able to go at their own pace; there was no rush.
Back at the Haining we had more tea and biscuits(!) and set to work to create some environmental art. Some was abstract, while some portrayed animals or scenes. We then had a mini 'show and tell' with participants being invited to talk about their creations.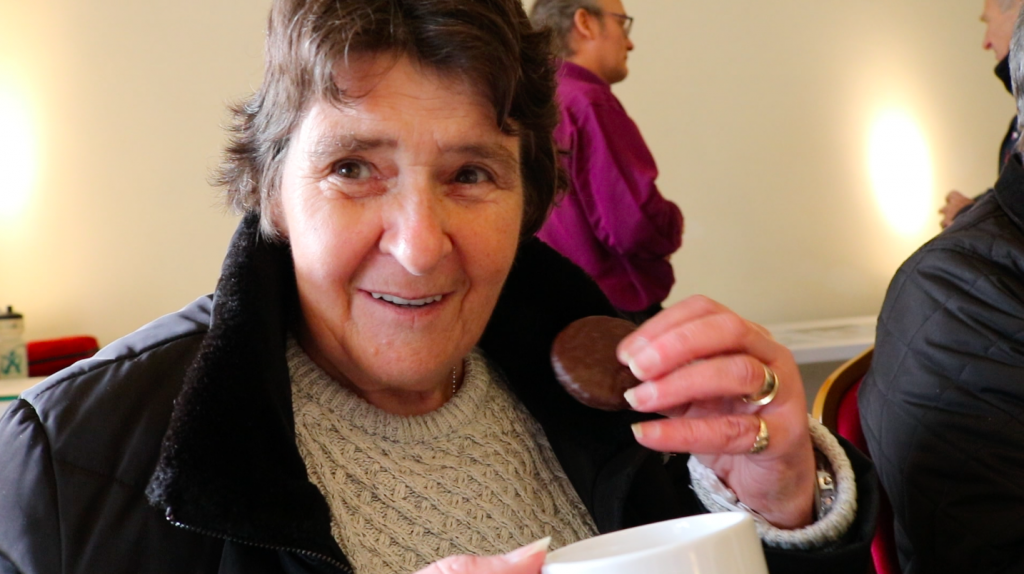 The session rounded off with more music and an invitation to select a 'mood stone'.
The following week followed a similar pattern, this week the group went outside to admire the 'bigger picture' of the distant views rather than close observation of nature. We noticed the energy generated by a spell outside in the cold bright sunshine, with a palpable buzz in the room when we returned. Even when back inside, people continued to comment on the scenery and the weather.
Sampling 'foraged' tea and infusions was an interesting experiment for some, with the reassuring constants of the background music and the builder's tea for those who preferred it.
Everyone enjoyed the calm, mellow atmosphere of these sessions. They seemed to provide just the right balance of structure and freedom of choice for people.
Magic Moments from our visits
Ella*, a former English teacher attends the sessions with her husband, David. When they were out on the walk, a rose bush sparked a memory of a poem that she used to recite. Talking about it around the fire later, David was able to get her to recite it again by prompting the first word. 

Charles is in his nineties and has a sister of a similar age who lives abroad, whom he hasn't seen for many years. At the end of each Instinctively Wild session, they stick photos and write notes in a logbook that they will get to take home at the end of project. Charles smiled as his daughter stuck the photos in and said 'my sister will enjoy these ones' – they plan to send the book to her when they finish.  

We notice the importance of living in the moment. It's sometimes difficult for people with dementia to have 'meaningful' chat with people – but through nature observation they can 'live in the moment' appreciate/discuss what they see/hear/smell. As they don't need to rely on memory for this, it's a positive way of sharing and communicating 

Two men attend who have have early onset Alzheimer's. They've formed a real bond and friendship, have a good sense sense of humour and get on well, they have banter together, noticeable energy when they come back inside after walk – still commenting on weather and scenery.

One helper told us he was slightly apprehensive before the sessions started as he had no knowledge of dementia. "But now I know the people, they are still individuals…you get to know how to talk to them. It's given me a new awareness of what dementia can mean, and the different stages/degrees of severity."
All names have been changed. 
Read more blogs from our visits to other projects 
Bowled Over – How 'getting outdoors' can help people living with dementia

Evanton Wood – Scotland's first 'dementia-friendly woodland'
This work is supported with funding from the Life Changes Trust. The Trust is funded by The National Lottery Community Fund.
Tags: